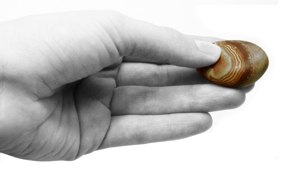 Manually grinded stones
Some precious stones should not be tumbled, they would be stressed as fine drapery in the washing mashine.
This is not the only reason why we use our hands to grind and polish divers stones. The treatment by the skillfull hand means more than functional smoothing.
Driven by its intrinsic structure, crafted by the polisher's hand, each stone keeps its individuality . Of course, we offer no examples - each picture shows exactly the piece you get.

In our manufactories in the Czech Republic and Germany we succeeded to handle even flaking mica minerals like Biotite, Lepidolithe or Disthen!