> Stone processing > Grinding and polishing machines
Diamond Smoothing Disc 150 mm, 3000 grit
Item number: DSD6-3000
Weight: 28 g.

Colorful, diamond smoothing discs ensure rapid removal of scratches and high spots on cabochons. They also smooth large, flat areas in channel inlay work and are excellent discs for smoothing, refinishing, refining and polishing gemstones, glass, synthetic material and even metal. Using a propriety technique, a high concentration of diamond is loaded onto each disc to provide an extremely aggressive grinding rate, yet leave an exceptionally smooth surfice finish. They are guaranteed to out-perform silicon carbide sanding discs and diamond compoud finishing systems. They do not crack or peel either. Discs are color-coded to easily determine what grit the disc is.
All diamond smoothing discs come with a 3M pressure sensitive adhesive backing that easily bond to backing plates, flexible discs and polishing heads. Sponge pads may be inserted under diamond smoothing discs to create a cushion for cabochon work. These diamond smoothing discs come standard with our AUN- horizontal flat lap machines.

This item is one pad:
Size: 152 mm (6 Inches)
Color: orange

Grit: 3000

Weight: 28 g.

In stock.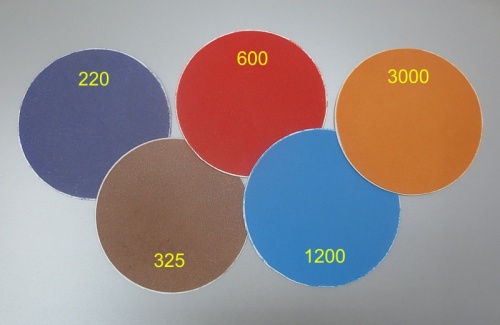 Open extra large image