> Minerals
Delafossite
Item number: MINS1352
Format: Thumbnail (Micromount).
Thumbnails are small specimens that must fit within a one inch cube, or close, and are commonly displayed in acrylic cases designed just for these little jewels or in plastic containers with magnifying lid.
Size: 13x12x4 mm
Crystal size (max.): 0.x mm
Weight: 0,7 g
Locality: Chuquicamata Mine, Chuquicamata District, Calama, El Loa Province, Antofagasta Region, Chile
Accessory mineral(s): Cornetite, Malachite, Chrysocolla?

 Black microcrystalline Delafossite partly as little needle's in marine-green Chrysocolla-Malachite-Qauarz vuggy matrix.  Few tiny blue irregular grains of Cornetite occur in the matrix. 



In stock.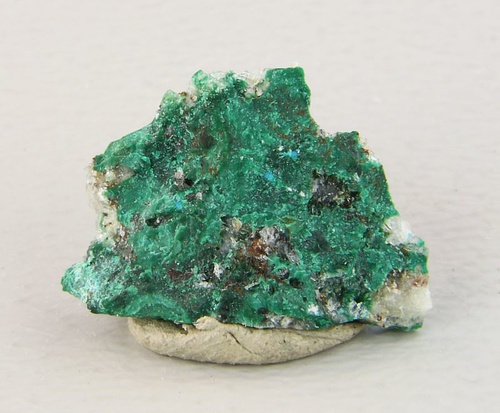 Open extra large image