Water Pump Cooling Unit
Item number: HY805
Weight: 850 g.

The CabKing CK6 water system is single-pass, contamination-free, meaning NOT re-circulating water system. The water system will remain trouble free as long as you use a fresh, clean supply of water. Do this by using a separate intake water bucket from drainage bucket. A fresh supply of water will protect you from cross-contamination of grit which can occur in re-circulating systems that use a bubbler or geyser. With fresh water, the pump and intake tubes will stay clean andunobstructed so there will be enough water pressure. Recommended is a minimum 18-20 l bucket for both the water pump and drainage. You will typically go through an average of 4 - 8 liters of water per hour, with the water control knobs on a light to medium drip. Monitor the water level in the bucket to make sure the pump is always submerged in water. The pump should not be run dry!

Fl max.: 2300 l/h
H max.: 2,5 m
Cord: 1,3 m
AC-220-240V/50Hz

Pre-order only
To inform you about possible delivery date, please add to cart as usual and send without obligation. We will contact you about conditions for ordering per e-mail.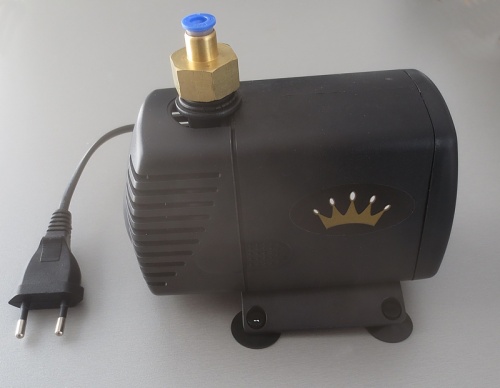 Open extra large image