Combination Saw and Arbor - Profi model
Item number: LO412
Weight: 28,5 kg

This all-in-one professional unit for cutting, grinding and polishing is optimal for those experienced or who don´t have room for multiple machines. Equipped with stainless steel trim table and stainless steel arbor shaft. The unit must be used with an overhead water source. Further accessories under relevant categories on our wen page.
Includes:

150 mm (6 inches) diamond blade with 12,7 mm (1/2") arbor hole.
150 x 25,4 mm (6"x1") Diamond 80 grit  grinding wheel.
Expanding drum 150x64 mm (6"x 2,5")

Spin-on polish disc with felt polish pad.
Sanding belts (220, 400 and 600 grit)
Hood

220-230V / 50 Hz motor,0,25kW/0,34HP, 1400 RPM

Trim vise
Polish CeO

Technical parameters:

Weight: ca. 28 Kg.
Size: 620x500x270 mm.

Pre-order only
To inform you about possible delivery date, please add to cart as usual and send without obligation. We will contact you about conditions for ordering per e-mail.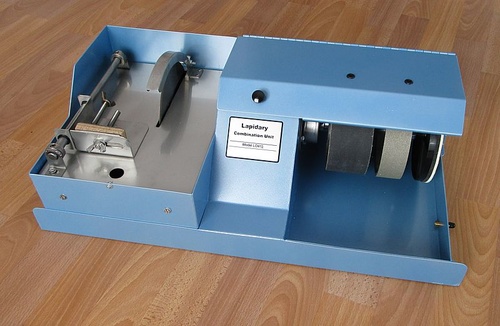 Open extra large image